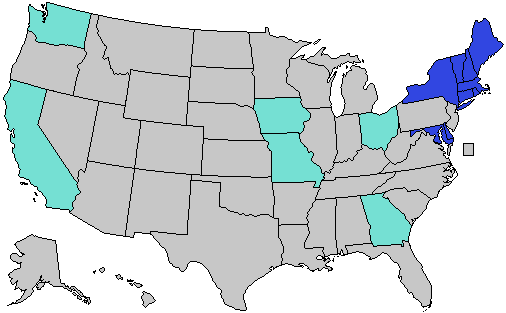 Georgia is the only state with a primary tonight. Georgia, like several other states, requires a runoff if no candidate gets more than 50% of the vote. Georgia's runoff is scheduled for August 10th. So what is important is not just who wins the primaries tonight, but their winning percentage and who takes second place are very important, too.

There are several races of some interest, with the most important being the Republican primary for Governor. Secretary of State Karen Handel is expect to get the most votes in the crowded primary, but is unlikely to avoid a runoff, so it will be important to see who comes in second. There are three other candidates in the race that have at least a legitimate chances to also make it to the runoff: former Rep. Nathan Deal, Insurance Commissioner John Oxendine and former state Sen. Eric Johnson. You can follow live election results at Politico.

7:00 pm – Polls are now closed in the state but don't expect any real numbers for at least half an hour.

7:50 pm – With almost an hour into the counting, we are still at just 1% return. So far in the GOP Gov primary Deal leads with 29%, Handerl 23%, Oxendine 23%, Johnson 17%

8:05 pm – With 5% reporting Handerl 31.8%. Oxendine 21.7% and Deal 21.4% are extremely close for second

8:15 pm – In the 12th district with 16% reporting it looks like John Barrow (D) will hold on to his seat. He has 64.7% compared to Thomas at 35.3%. Thomas shows improvement over last time but not enough.

8:35 pm – In 8th district GOP primary Austin Scott is sitting right on the bubble with 22% reporting. He has 49.9% of vote, just shy of what is needed to avoid runoff against Ken Deloach at 31.8%.

8:58 pm – It was not really much of a race, but Mike Thurmond was declared the winner of the Democratic Senate race with 82.7% of the vote.

9:05 pm – Republican Gov runoff is increasingly looking to be Handel vs Deal with 22% reporting. Handel is at 32.6%, Deal at 24.7%, Oxendine at 17.8, Johnson at 17.6%

9:20 pm – Dem Gov candidate Roy Barnes should easily be able to avoid a runoff and prepare for the general while the Republicans keep fighting each other. Barnes currently has 57.9% of the vote.

9:27 pm – Roy Barnes has officially been declared the outright winner in the Dem Gov primary.

9:40 pm – Dem Incumbent Hank Johnson is looking safe in the 4th district. With 28% report Johnson has 55%

9:56 pm – It most feel like the never ending campaign for Rep. Tom Graves. With 76.1% reporting he is just under the bubble with 49.8% and Lee Hawkins has 23.5%. If Graves is forced into a runoff that will be the fourth election in only a few months in which Graves has faced Hawkins.

10:30 pm – AP has been real slow calling races but with 77% reporting and Incumbent Dem John Barrow up up 63% to Thomas 37% it is pretty clear he is going to win in the 12th district.

10:35 pm – The big race tonight the Republican Gov primary has just been called with 77.9% reporting. It will be a runoff on Aug 10th between Handel with 32.9% and Deal with 23.8%.

10:40 pm – In 4th district Rep. Johnson (D) is going to avoid a runoff. He has just been declared the winner outright.

10:45 pm – In 12th it is been called for incumbent Dem John Barrow.

10:51 pm – Barrow is not going to know who is opponent is yet. The GOP primary is producing a runoff between McKinney with 44% and Smith with 27%. Barrow is a strong favorite in the general.

10:55 pm – In the 9th district the seemingly eternal fight continues. Rep. Tom Graves has been force into a runoff again against Lee Hawkins by only get 49% of the vote. This will be the forth election in only a few months where they face each other. Graves campaign team is going to be pretty tired by August 10th.

10:57 pm – Establishment choice Austin Scott wins the GOP 8th district primary clean and will go on to face incumbent Jim Marshall in the general. Despite being a fairly Republican leaning district Marshall is still favored to win but could have a decent fight on his hands.

11:02 pm – The GOP primary in the extremely red 7th district has just been called. It is a runoff against Rob Woodall with 36.9% and Jody Hice with 25.7%. The will of this runoff is almost assured to become the next congress member from the 7th district.

With all the interesting races declared I'm calling it a night.