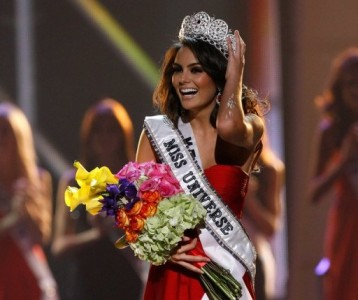 Mexico's Jimena Navarrete, 22, was crowned the 2010 Miss Universe winner on Monday at the Mandalay Bay resort and casino in Las Vegas. Navarrete's win was a big surprise and considered an upset victory because oddsmakers had predicted this year's Miss Universe winner would either be from Venezuela (Marelisa Gibson), Ireland (Rozanna Purcell), or the United States of America (Rima Fakih).

Miss Jamaica Yendi Phillipps, 24, was announced as the runner-up and Navarrete was shocked at the win. Miss Philippines Venus Raj made it into the top 5 and bowed out as the 4th runner-up.

The 22-year-old Jimena Navarrete hails from Guadalajara, Mexico and said she plans on studying nutritional science but has been modeling since the age of 15. Jimena will spend her year as Miss Universe helping different charities and bringing attention to the need of people suffering from breast cancer and HIV/AIDS.
Along with Navarrete's victory, she will receive a year's worth of clothing, shoes and hair products from Farouk Systems' Chi line, and also a one-year scholarship to the New York Film Academy.