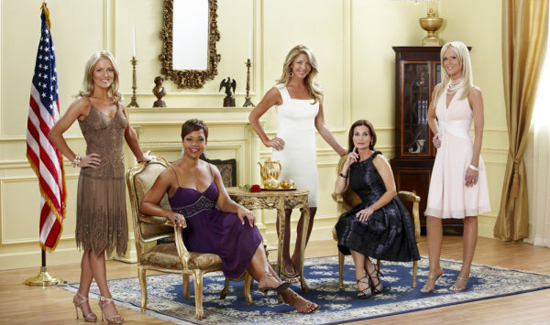 For months, Americans have seemingly agreed on only one thing: White House party crasher Michaele Salahi -- she with the shock of blond hair and sparkling red sari, who floated past flashing cameras with her befuddled-looking husband Tareq -- is a cringe-inducing attention grabber. Yuck.

The Salahis, of course, sneaked into the White House for President Obama's first state dinner in November. White House social secretary Desiree Rogers eventually resigned over the flap that ensued, and Americans have been seething at the mere mention of Michaele ever since. And the antipathy kicked up a notch when word began trickling out that the party crashing was a reality show stunt, or the Salahis attempt to land such a show.

Curiously, though, it's anything but contempt viewers will likely feel toward Michaele in 'The Real Housewives of D.C.,' the fifth installment in Bravo's 'Housewives' franchise. 'D.C.' premieres Thu., Aug. 5.

Michaele is one of five women featured on 'D.C.' and in the premiere episode, she steals the show -- in a good way.As it turns out, Michaele is something of hoot. She's nutty and funny and doesn't take herself too seriously, at least not as portrayed on 'D.C.' Although, it does take time for her drop her pretenses. She emerges as the underdog. She's this 'Housewives' picked-upon, looked-down-on housewife. Moreover, by the end of the premiere episode, when it's revealed that some of Michaele's frenemies are concerned about her health, it's likely viewers will be, too.Michaele may have clawed her way into the spotlight, but it turns out she's an eminently watchable TV character. She's funny and caring. And even when she's not caring, it seems she's dissing people not to be rude but just because she's ditzy and perhaps a bit airheaded.

Bravo's no dummy when it comes to casting 'Housewives.' One example of shrewd casting is the seemingly on-the-verge Danielle Staub from 'Real Housewives of New Jersey.' She's a big reason that version's first season finale was the most-watched 'Housewives' episode ever.
Michaele isn't 'D.C.'s version of Danielle, the troublemaker. She doesn't seem dangerously out of control, either, as Danielle sometimes seems to be. Michaele is likable, most of the time. 'D.C.'s villain appears to be Catherine "Cat" Ommanney.

Cat's a British émigré and, snap, just like that, she's zooming into caricature territory. She's British, so she's icy. She's British, so she quite literally puckers her lips in disgust at just about everyone around her. She's British, so she's droll, distant and aloof. Having seen only one episode, but dozens of other 'Housewives,' it's safe to say that Cat's claws will be coming out often.Another of the 'Housewives' is kooky -- but in a way that well-to-do people tend to be. She's the appropriately named Mary Schmidt Amons, a mother of five children whose own childhood included pool parties with the Kennedy clan. Mary goes out of her way to be seen as a member of the stiff-jawed D.C. elite. But, in reality (or on reality TV), she's a boozy, slumping over, seemingly emotionally fragile everyday woman. You know, in a good way.

The other 'D.C.' housewives, in the premiere at least, are overshadowed by Michaele, Cat and Mary.Lynda Erkiletian is a hotshot modeling agency owner. She proudly depicts herself as a cougar who – uncomfortably for viewers – trots out her younger, black boyfriend like he's a trophy. And Stacie Scott Turner is a big-time real estate agent who's nice all the time. Nice. If past 'Housewives' are any indication, that's likely to change.Ultimately, this 'Housewives' is mostly about Michaele, though. It's hard to look away, even if you wanted to.

"Michaele is 5,000 miles per hour, but with the attention span of a gnat," purrs Cat. "She's pretty crazy."