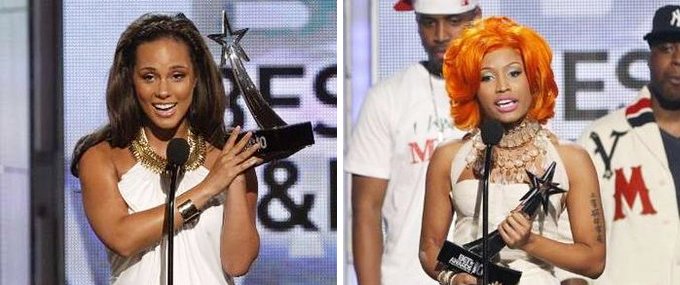 It was a Young Money affair at the 2010 BET Awards, as Drake and Nicki Minaj won Best Hip-Hop Male and Best Hip-Hop Female respectively. Both thanked their incarcerated mentor Lil Wayne, for giving them a platform on his Young Money label.
The show was relatively free of incident and occasionally boring, particularly on the hip-hop front. Kanye opened the show with a stirring rendition of the instabanger "Power." It went down hill from there, with Eminem electing to lip-synch and DJ Khaled opting to rap.

On the bright side, I thought that Chris Brown's tribute to Michael Jackson was brilliant (sans the crocodile tears). Prince, who received a Lifetime Achievement award, also enjoyed a thrilling tribute from fiv special ladies: Janelle Monae, Alicia Keys, Esperanza Spalding, and Patti LaBelle. Patti's poignant rendition of "Purple Rain" literally moved Prince to tears.

The show was enjoyable in parts, but disappointing overall. I would've been happier if someone at BET had reserved a few seconds to honor Guru, who passed away in April. My guess is that a proper tribute is planned for the BET Hip-Hop Awards this fall.

Mark has the winners list, if you're interested.