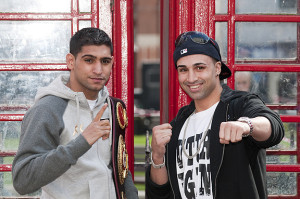 This is the second part of Inside Fights' live coverage of tonight's world championship boxing action. In a HBO special Amir Khan fights in America for the first time, defending his WBA Light Welterweight Title in Madison Square Garden's Wamu Theatre against hometown favourite Paulie Malignaggi.We'll be bringing you live coverage of every round of this light-weight world title clash, and the other featured fight Nate Campbell vs Victor Ortiz. Refresh the page for the latest updates.

At the beginning of the year, Amir Khan left British promoter Frank Warren and signed with Golden Boy. In doing so, Khan was turning his back on a Britain market that had constantly frustrated him and instead gambling on being able to break into America early on in his career. His new promoters Golden Boy and their allies HBO, Paulie Malignaggi has been hand picked to face the young champion due to his name value and his lack of punching power. However, his preparations for this fight have been far from ideal with Khan having to train in Canada while visa issues were resolved and struggling to secure a British broadcast partner for the fight. After failing to do a deal with premier British boxing and pay per view broadcaster Sky, in the UK this fight is being shown on Network television by ITV. And with rumour that the fight was struggling to sell-out the 5,000 large Wamu Theatre, something that may have led to the 'shocking' brawl at yesterday's brawl.

We start with Nate Campbell vs Victor Ortiz.

10 Round Light-Welterweight Match

Nate Campbell (139Ibs) vs Victor Ortiz (140Ibs)

Round One

Good first round is marred by a terrible call from the referee who counts a knockdown against Campbell, which was ridiculous as it was obvious that Campbell put his glove on the canvass after being pushed off balance by Ortiz. Still that shouldn't detract from a superior performance from Ortiz who boxed at a distance, circling Campbell and landing several hard straight lefts and putting together some nice combinations. Campbell offered some shots of his own, but his footwork lacked guile as too often he was simply walking onto Ortiz's shots. 10-8 to Ortiz.

Round Two

A similar story in the second round, with Campbell trying to push the action but lacking the urgency in his footwork to force Ortiz to engage. Ortiz is again able circle Campbell, setting up his angles and landing some really nice looking punches – especially the straight left. Campbell has more success than in the first but its still Ortiz's round. 10-9.

Round Three

Another good round that follows the pattern of Ortiz just slightly outworking Campbell, circling his opponent to set up the better shots of the round. Ortiz really is taking full advantage of his height and reach advantage to box at a distance while still being able to punish any gaps in Campbell's defence, landing several stinging left hands and almost landing a nice right uppercut square on Campbell's chin. Campbell is not being blown away but he does look a step behind Ortiz and needs to up the tempo if he's going to fight his way back into this fight. 10-9 to Ortiz.

Round Four

More of the same in round four in what has been an enjoyable if repetitive fight, with Ortiz having lots of success with the straight left that he is seemingly able to land at will. Ortiz is content to circle round Campbell, box at a distance and land some stinging shots. This is an excellent peformance from Ortiz, who is successfully controlling the fight from the back foot. 10-9 to Ortiz.

Round Five

A scrappy round, with both fighters being quick to hold onto each and throwing inaccurate punches close up. Ortiz shows his quality late on though, putting together some nice combinations that pin Campbell against the ropes and do enough to secure the round for Ortiz.

Round Six

Both fighters heed the referee's call to stop the holding, and we get a better round with both fighters putting together some nice shots. Campbell starts strongly with some good body shots but then Ortiz starts to take control, pinning Campbell against the ropes with rights and lefts. Campbell is visibly starting to tire and is looking very old in the ring, with Ortiz landing some hard shots towards the end of the round.

Round Seven

Another strong round for Ortiz, who fights on the front foot for much of the round landing a couple of particularly stinging straight lefts that visibly effect Campbell. Campbell is struggling to get back into the fight, and looks desperate towards the end of the round with a lunging right hand at the start of the final minute and some dirty boxing at the very end. 10-9 to Ortiz.

Round Eight

Another strong round for Ortiz who is completely dominant in this fight, just able to dictate the pace of the round and pick his punches at will. Campbell looks like he has completely run out of ideas, offering no imagination with his footwork or headmovement. His constant failure to pick out Ortiz's left hands is particularly noticeable. While he's able to land a couple of right hands while Ortiz had his hands down, its another round to Ortiz 10-9.

Round Nine

The arrogance that had been creeping into Ortiz's game in the previous round is once again on display, with Ortiz once again having his hands down but this time Campbell is able to punish him with a hard right hand. Ortiz heeds the warning, and tightens his game up again and returns to the hit and move tactics that have brought him so much success for the past nine rounds. Another round to Ortiz 10-9, who is one round away from a complete shut-out on my scorecard.

Round Ten

Safety-first round from Ortiz, who is content to box his way to a decision victory. Campbell exploits the defensive tactics to land some telling body shots but Ortiz probably did enough to outwork him and secure the 100-89 shut-out victory on my scorecard.

The judges score the fight 100-89, 100-89 and 99-90 for the winner by unanimous decision, Victor Ortiz.

The main event is next.

WBA Light-Welterweight Title Match

Amir Khan (139.5Ibs) vs Paulie Malignaggi (139Ibs)

Amir Khan is one of the most exciting boxers on the planet, the Olympic Silver Medalist has slick boxing skills with excellent speed in both his hands and feets. His one weakness is his chin, with an already poor chin having been cracked by Brendis Prescott in a 97 second knockout in 2008. Under the tutelage of new trainer Freddie Roach, that fatal flaw is being increasingly well hidden by an improved defence. There are also being hidden by some smart match making, including hiding Khan from the punch Madiana and putting him up against a fighter in Paulie Malignaggi who for all his quality and heart, is infamous for his lack of punching power. Khan has a 8cm height advantage and 5cm reach advantage. Amir Khan is very much a work in progress but he should have enough to put Malignaggi away within the distance.

Round One

An action packed if scrappy opening round, with both guys throwing but a tad too much holding. Khan is impressing, using his speed to take the fight to Malignaggi with the jab proving particularly effective. Malignaggi catches Khan on the counter a couple of times, landing some nice body shots and getting a glancing right hand that Khan is able to shake off. Khan's round 10-9.

Round Two

Another fun round, with Malignaggi landing the more telling blows including an illegal rabbit punch to the back of the head. Khan is hanging in there with Malignaggi, putting his speed to good use but isn't quite able to get his class and technqiue impose itself on the fight. Malignaggi's round, 10-9

Round Three

Another even round, with both fighters exchanging punches at a fast past. Paulie Malignaggi becomes more aggressive as the fight goes on, putting together some nice combinations although Khan is able to catch him with an uppercut. Amir Khan did some good work with the jab early on but Malignaggi probably landed the better shots, with the flurry at the end enough to secure the round for him 10-9.

Round Four

Another even round, with Malignaggi often pushing the action and seemingly leaving Khan slightly confused about the best way to tackle him, indeed at one point midway through Khan seemed dangerously close to running out of ideas with Khan pushing him back into the corner. However Khan is able to land a hard right uppercut on the counter, that visibly effects the American and is able to put together some good exchanges in the second half of the round including a lovely right hand at the very end. 10-9 to Khan.

Round Five

Better round from Khan, who shows greater patience as he tries to establish a rhythm to his performance. He fights from the centre of the ring, working the body and throwing some quality jabs and left hands to the head of Malignaggi. He does secure a knockdown early on but its the result of a push. Better from Khan, 10-9 to the champion.

Round Six

The upswing in Khan's performance continues as he really gets the jab working in this round, getting several stinging shots in that seem to visibly effect the challenger. Khan seems far more relaxed, and in addition to the jab lands some good left hands and throws the occassional hook shot. Malignaggi gets some jabs of his own in, but that's certainly Khan's round 10-9.

Round Seven

Malignaggi is really struggling to pick that jab, with Khan able to land it square on the challenger's chin almost at will. Another comfortable round for the champion who after a tense start seems comfortable working his jab and landing some hard left hands. Malignaggi may be starting to run out of ideas. 10-9 to Khan.

Round Eight

Another good round for Khan who is having a lot of success with the jab, although with the exception of a good exchange early on he seems unable or uninterested in using it to set up the type of combinations that may put Malignaggi in real danger. Still the challenger is certainly losing the fight, taking a lot of shots to the head with his defence seemingly becoming increasingly ineffective. 10-9 Khan.

Round Nine

The referee had a good, long look at Paule Malignaggi with talk of his corner raising the possibility of ending the fight. While Khan hasn't landed a single big punch, he has been pumping the jab at Malignaggi's head for the past three rounds. This round is no different, with Khan again working Malignaggi over with the jab to set up some quality punches, including a nice looking right hand. Malignaggi seems to have little left, visibily wilting with his defence increasingly degraded. 10-9 to Khan.

Round Ten

More of the same from Amir Khan, controlling the fight with the jab and landing some quality shots. Khan is focusing all his work on the head of Malignaggi, with few punches being aimed at the body of the challenger. Despite this you'd be hard pushed to point to any exchange where Khan was close to securing a knockdown, let alone a knockout. 10-9 to Khan.

Round Eleven

The referee and the doctors take a good long look at Paulie Malignaggi, who is just about able to convince them to let him continue the fight. Khan starts the fight working the jab, lands a hard left hook and then a stinging left jab that staggers Malignaggi who is then pinned against the ropes by Khan who swarms all over Malignaggi to finish the fight at 1.25 and so retain his WBA Light-Welterweight Title.

Once he settled down, that was a really good performance from Amir Khan. His jab was awesome tonight, Malignaggi couldn't pick it out and it did real damage to the challenger. Khan showed his speed, able to stay busy and dictate where the fight took place. In the post fight interview, Khan talked about the possibility of facing the mandatory challenger Marcos Maidana and ultimately Tim Bradley to unify the titles.

And that's it for Inside Fights coverage of tonight's world championship boxing action. I hope you've enjoyed tonight's fights and thanks for joing us. Stay tuned to Inside Fights for all the latest news and views.