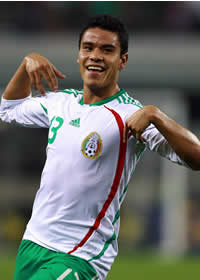 Who: Mexico vs. Senegal
What: International Friendly
Where: Soldier Field, Chicago
When: Monday, 9 p.m. ET
TV: Telemundo

Just four days ago, Mexico was inaugurating a new stadium in front of a packed house. On Monday, they're doing it all over again - save the "inaugurating a new stadium" part.

Mexico will play Senegal in front of what will likely be another packed house. Mexico's match against Senegal has sold out, assuring Mexico of another pro-Tricolor crowd as the team prepares for the World Cup.

Change In Goal

Mexico have three goalkeepers and all are supposedly in contention for the starting spot. Luis Michel got the nod on Friday but now it will be Oscar Perez's turn to start. Perez was named the starting 'keeper and will have his opportunity to prove his worth. Perez was the starting goalkeeper at the 2002 World Cup under Javier Aguirre and helped Mexico win their group. Still, a lot of time has passed and Perez had fallen well out of the national team picture. But when Aguirre returned to Mexico, he instantly brought back Perez and had him start key qualifying matches. While he was not called up for any of the friendlies this year, Perez's standing with Aguirre is still high apparently.

What Perez brings to the table is experience and leadership. While Guillermo Ochoa has played in many top-level matches for both club and country, he has not played in a World Cup match. That fact alone probably won't be the deciding factor but it could give Perez an advantage. Perez won't crumble under pressure, and Ochoa's recent string of mistakes and poor matches leaves the door open for questioning.

Onus On Goals?

Mexico were impressive in their ability to draw fans on Friday, but putting goals in the back of the net was a different story. Mexico could not score and were constantly stymied by Ecuador's defense and goalkeeping. With a bit more possession and timely finishing Mexico easily could have created more scoring chances and might even have put one in the back of the net. Goals of course are not necessary for Mexico to find success. After all, coaches are looking to see what players best fit into Mexico's scheme but some sort of finishing would be nice for fans, if nothing else.

It may just have been a reflection of the team's puncless effort against Ecuador but Mexico's best scoring chance of the night came when Jorge Torres Nilo lined up a 20-yard shot on goal that Ecuador's Marcelo Elizaga parried over the crossbar. Perhaps the onus will fall more on Alberto Medina and Adolfo Bautista, each of whom showed strengths and weaknesses against Ecuador, to score goals. Those two are nowhere near safe in terms of a roster spot and certainly need to shine in order to improve their standing on the team.

African Opponent

This game will also represent the first of at least two games geared specifically with June 11 in mind. Mexico have played games against South American opponents to emulate a bit of what Uruguay may offer, played a European team to mimic France somewhat and have played other World Cup-bound teams this year, but thus far Mexico have not played an African nation.

Senegal did not qualify for the World Cup but still have something to offer. Senegal were in the last two World Cups and, like Mexico, had a strong performance in 2002.

This is a different Senegal side, however. Apart from being young and somewhat inexperienced, Senegal's full national team struggled in both World Cup qualifying and in trying to reach the African Nations Cup. Senegal did not qualify for their confederation championship either.

Still, the work rate and speed of Senegal, and Angola whom Mexico will face Thursday in Houston, is what matters more than the level of play. If Senegal can give Mexico a taste of what South Africa could bring on June 11, then the team will have served its purpose.

Projected Lineups

Mexico: Oscar Perez; Adrian Aldrete, Jonny Magallon, Jorge Torres, Paul Aguilar; Pablo Barrera, Gerardo Torrado, Israel Castro, Andres Guardado; Adolfo Bautista, Javier Hernandez.

Senegal: Khadim Ndiaye; Jaques Faty, Kader Mangane, Souleymane Diawara, Boukary Drame, Remy Gomis, Isiar Dia, Mickael Tavares, Mamadou Niang, Fallou Seni Camara, Moussa Sow.

Goal.com Prediction: Mexico, 1-0.