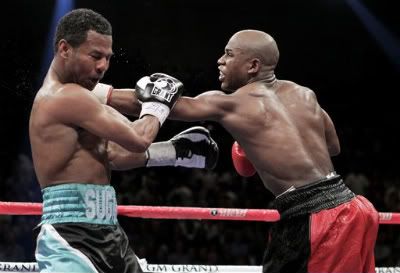 Brother Naazim Richardson, the well-respected trainer for Shane Mosley is fond of saying that there are good fighters, champions, elite fighters, and special fighters; beyond those there is Floyd Mayweather Jr.In perhaps the best performance of his already legendary career Floyd Mayweather dominated future hall-of-famer Shane Mosley and won a wide unanimous decision. Mayweather, much reviled for his outsized self-belief, had been accused of picking soft competition by critics.

There isn't much to say now. Mayweather struggled through the early rounds, suffering a near knockdown in the second. For a moment it appeared the 40-0 fighter might suffer his first defeat. He quickly rectified matters.Using superior athleticism and skill of Mayweather began to punish Shane Mosley with powerful jabs and quick right hands. Though Shane is a great champion and a proven fighter he was unable to adapt.

Unfortunately I was unable to watch the middle rounds of the fight as the severe storms throughout the Southeast caused a cable outage (A frustration that led to a near-brawl between this boxing writer and security guards at the theater the fight was being shown at), but in the last few rounds Mayweather punished Mosley. He landed flush shots with his right hand and at certain points seemed on the verge of getting the stoppage victory.
Floyd has had similarly dominant performances against the likes of Arturo Gatti and Diego Corrales, but never against someone of the ability of Shane Mosley.
After the fight talk quickly turned to a potential bout with fellow welterweight and consensus pound-for-pound champion Manny Pacquiao. Mayweather and Pacquiao were planning on fighting earlier this year before disputes over drug-testing policy scuttled the potential superfight.
The issue of testing still lingers, but desire for the fight has now reached a frenzy. If the two are able to come to agreement many expect the bout to be the single most lucrative in boxing history. After his performance on Saturday night - a display which will have impressed his harshest critics- it will take the unbridled passion of Pacquiao to test the cool and refined Mayweather.