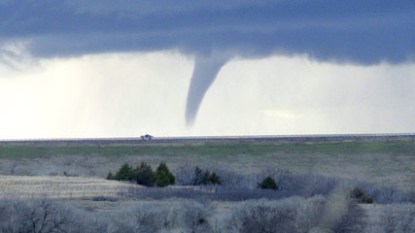 Oklahoma Tornado 2010, Bad Oklahoma Weather: An Oklahoma tornado has killed at least five people after bad weather caused tornadoes that ripped across the Southern Plains, and even reached the Oklahoma City area.
According to reports, the Oklahoma tornado caused a lot of destruction that tossed vehicles over on roads and highways and even flattened houses.

The Oklahoma Department of Emergency Management told the press that two people were killed Oklahoma City and that three others died in Cleveland County.

In addition to the five, officials have reported that at least 58 others were injured as a result of the bad weather and the destructive Oklahoma tornado.

The Storm Prediction Center in Norman, Oklahoma has issued a tornado warning for 25 counties in eastern Oklahoma, four counties in western Arkansas, nine counties in southeast Kansas, and five counties in southwest Missouri.

NY Times reports that in Cleveland County, a tornado with winds of 103 m.p.h. touched down about 4 miles southeast of Norman, then crossed a highway.

According to CNN: "The American Red Cross opened at least two shelters in McCloud, Oklahoma, and Tecumseh, Oklahoma, and continued to assess needs across the state.

More than 31,000 homes were without power in the metro Oklahoma City area — nearly 15,000 in Norman alone, according to Oklahoma Gas & Electric."

Reports say that Meteorologists warned that there will be tornadoes on Monday.